Welcome gamers. Today, here at GamingNewsDaily, we will be taking a look at one of this years most anticipated PS3 exclusives, Resistance 3. The game is developed by Insomniac Games & will be Published by Sony & is the third game in the series.
The first, Resistance Fall of Man, began the war against this Chimaren threat over on the shores of Europe where we star as Nathan Hale, an american soldier sent there to defend against the threat before it hits America. The game took place in the early 1950′s. It was also told in a third person-narrative aspect by Rachel Parker a European soldier defending against the threat as well.
The second, Resistance 2, takes the fight over to America with Nathan Hale takes the helm as the protagonist once again but no narrative aspect this time around. Throughout the game, he battles against the Chimaren threat outside as well as inside his body. Eventually, the latter doesn't end well for him.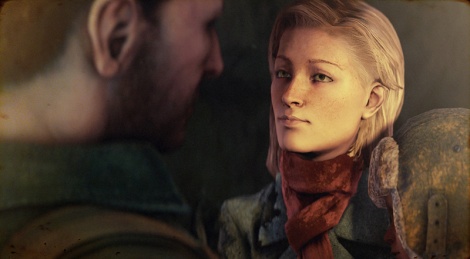 In the beginning of Resistance 3, the Chimaren threat has pretty much reached its peak. They have won and there isn't much left to stop it. Except for one former sentinel, Joseph Capelli,  who has left his soldier days behind in hopes of staying alive with his new wife and child & banding together with fellow survivors to flee and survive then to fight and die.
The beginning of the game has more of a survivalist vibe to it, with Capelli and his band of survivors running from the Chimaren threat doing their best to just survive, with them being some of only 10% still alive. When Dr. Fyodor Malikov arrives, Capelli learns of a way to possibly put a dent in the Chimaren threat, he decides to leave the comfort of his home to seek out this chance before The human race is extinct for good.
The fan-favorite weapon wheel makes its return back with also a new set of weapons for us to show off to the Chimera as well as a return of old Chimera destroying favorites. Here are some new weapons to name a few.
Mutator-This weapon showers enemies in biologically engineered sludge that can cause vomiting, cysts, boils and bloating flesh. Oh, & it turns its targets into ticking time bombs.
Atomizer-This weapon would make Cole from Infamous envious. It shoots blue shocking energy beams & it can fire off an orb that sucks up nearby enemies. Talk about static electricity.
Sledgehammer-You would think that this normal everyday hammer is useless in fending off Chimera, but you would say different when you get a chance to crush a Grim's skull with it. Try it before you judge it.
Deadeye-Not your normal everyday sniper. This weapon would put other snipers to shame. It can leave a VW-sized hole into a Chimera's chest. Otherwise, you can also make puree out of your target's face with its alternate charge-shot.
Multiplayer has change significantly so that it can incorporate the single-player survivor aspect & make things more up close & Personal. Instead of the usual 50+ online players we would have expected, we will only be getting 16-player multiplayer. Customizable loadouts will also be included within the game as well as upgradable passive & active perks that can be purchased using your earned XP. Passive perks include subtler bonuses like faster fire rates and increased blast radius for grenades while active perks include game-changers like the Lightening Shield that gives melee attackers a nice bolt of juice. Active abilities are also split in two categories, those that help the individual or those that help the team. Individual boosting abilities include the Doppelganger which creates a hologram of yourself to confuse the enemy. Bubble shield & the Heal Beacon are good team-based abilities. Other type of abilities include the Leaper, where a spidery namesake erupts from a fresh corpse. For veterans, you can also mix things up with the passive aggressive perks like one that will rob you of your HUB in exchange for a 25-point XP bonus.
That is it for our Resistance 3 preview, now what most of you are wanting. Yes, the Resistance 3 multiplayer beta is coming up in a few days for those that have the Socom 4 code. Well, if you are reading this, than you may just have a shot at getting a free code for the beta. We at GamingNewsDaily will be giving away a Resistance 3 beta code to two lucky people at random on Thursday, August 4th, 2011 at Noon CST. To obtain a free beta code all you have to do is follow these instructions.
Follow our Twitter to the right or click on GND_GamingNews and then follow.
Tweet what you like most about Resistance 3 with the hashtag #GNDGives.
That's it, we will choose 2 people at random, and message them the code on their twitter.
[UPDATE]There have been a sudden change of events, instead of giving 2 random people a beta code for the Resistance 3 beta on Thursday, we are giving away… 3 beta codes now. Be sure to follow us on our Twitter and our Facebook.
Have a good day from GamingNewsDaily        
Related articles